INSTRUCTIONS FOR POSTER PRESENTERS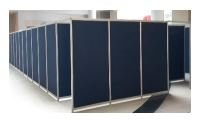 All posters will be displayed on physical boards measuring 1m wide x 2m high – PORTRAIT style.
Each poster presenter is allocated one board for each poster they have had accepted. In advance of the congress, we will write to you to let you know which poster board number(s) have been allocated to you.
Poster authors are responsible for printing their own posters and bringing them to the congress centre. There will be no on-site facilities for printing. Velcro will be provided to fix your poster to the board. Please note that pins should not be used as these cause damage to the boards.
You are free to choose your own font and text style, and there is no limit on the number of words, but the poster must fit within each board.
Set up Time and Removal
Thursday 11th August Setup from 13.00hrs
Sunday 14th August All posters must be removed by 10.30
Any posters not removed by this time will be recycled.
Discussion Time
Authors are requested to be by their board during the coffee breaks to allow delegates the opportunity for informal discussion.
Friday 12th August Morning & afternoon coffee breaks Odd number posters
Saturday 13th August Morning & afternoon coffee breaks Even number posters
PDF File Version
As well as the printed poster, authors have the opportunity to submit a pdf file which will be uploaded onto the app for delegates to refer to after the congress is over.
All poster presenters have been sent an email containing a unique link to our PDF poster upload portal. Please upload your poster via the portal by 15th July 2022.